The day started off with
ayeellelleye
picking me up and running late in the process. OH NOES you say! Everyone else must've already been there by the time you arrived. WELL FEAR NOT, since the only people to get there before us were
drulle
,
suave_badass
and
serenemiss
. There was a bit of dramallama at the start because they were letting people who donated blood get in for free! imagine that.
suave_badass
got hers taken but then fell ill! Luckily she was able to join us later. But sadly she missed out on the group picture! But nothing else particually major, thankfully!
So basically we waited around the front for
dextrosinistral
and
kinetic1028
to show up and they did, bringing noming cookies.
serenemiss
also bought cake! Deliciousness all round. So we waited outside for a bit and then decided no one else was going to turn up so we went into
Austin's Park
, the BAMF place we were holding the meet up! We went and grabbed food first, as most of us were STARVING, and after about an hour of just awesome chatting and playing with the Bones & Spock action figures supplied by
ayeellelleye
and
drulle
respectively,
suave_badass
was let out of her blood bus prision and could join us! Whoo!
First thing we did after food was ride the tea cups with SERIOUS BUSINESS faces, as as we were eating we spotting one gentleman sitting on the phone looking SERIOUS BUSINESS. We thought we'd try and see how it worked out for us. Then we thought we'd tool around outside and then, it was decided! We would take pictures as the characters we had assigned ourselves/were assigned! I was Chekov,
dextrosinistral
was Spock,
serenemiss
was Sulu,
suave_badass
was Scotty,
ayeeleelleye
was Bones,
kinetic1028
was Kirk and as our token guy,
drulle
was Uhura, the token girl. =D
THEN IT WAS ON TO PHASER TRAINING! Fuck yeah. We waited in line for about 45 minutes to get in for a 5 minute game but it was totally worth it. I don't remember who came first (possibly
drulle
? Or
serenemiss
) but I was third! Whoo. There was also some little kid in with us because we needed 8 people but we were only 7, but he was kind of cool even if we only interacted with him for those 5 minutes. THEN! We went into the acarde wherein we (by we I mean really just
suave_badass
and
ayeellelleye
with the rest of us "helping") played Star Trek Voyager, which was fun.
While we were waiting in line for Phaser Training we discovered that there was a cinema nearby that was showing Star Trek still! So after playing Voyager we went and saw that. We spent the entire movie (which was suprisingly full) shouting out stuff, laughing at inappropriate places, all of the good stuff. It was fun! After that all of us bar
serenemiss
went to Denny's to grab some food, yum, and then. AND THEN. we left for home. We do not speak of the time that happened after that, suffice to say hitting cop cars is not fun even if everyone is okay and nothing was badly damaged and somehow
drulle
got off scot-free. NOT TALKING ABOUT IT.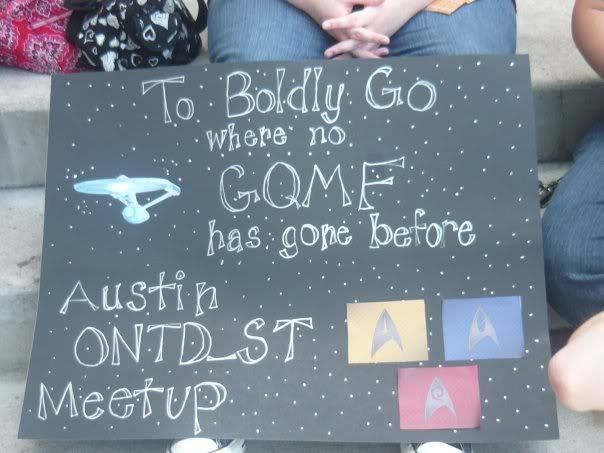 Our GQMF sign, made by
ayeellelleye
(
MORE PICTURES THIS WAY
Collapse
)
It was a fucking awesome day! I would reccommend everyone who can go to a meetup, DO SO!
PS: SEEING THE CAB TOMORROW FUCK YEAH.
HAY GQMFS! HOW'S IT? WE HAD A MEETUP IN THE MOST GQMF OF PLACES, AUSTIN. I THOUGHT YOU MIGHT LIKE TO HEAR ABOUT IT. OR JUST SEE IT, SINCE AFTER THIS LOT OF TEXT IS PICTURES EXPLAINGING THE SAME STUFF. BUT IN PICTURE FORM. (YOU ALL SHOULD KNOW ABOUT MY CAM WHORING WAYS BY NOW).